Boosting Your Child's Safety: Expert Tips on Car Seat Boosters
As we celebrate Child Passenger Safety Awareness Week from September 16th to 24th, we're here to dive deep into a topic that matters immensely—car seat safety, with a particular focus on booster seats. 

According to The Child Passenger Safety Association of Canada, a properly used seat can reduce the risk of fatal injury
by 
71%
We all know that kids are bundles of energy, curiosity, and joy. Ensuring their safety during car rides is non-negotiable. Car seats and booster seats are essential tools in safeguarding our children's lives while on the road. At Go Green Baby, we're dedicated to ensuring your little ones are safe, cozy, and well-prepared for every car journey.
Meet Our Car Seat Specialist: Your Child's Safety Advocate
Before we dive into the details about booster seats, let us introduce you to our car seat safety expert, Cris Strong. She's a Certified Child Passenger Safety Technician (CPST) and has been an invaluable member of the Go Green Baby team since 2019. We're incredibly fortunate to have her expertise in keeping our little ones safe during car rides.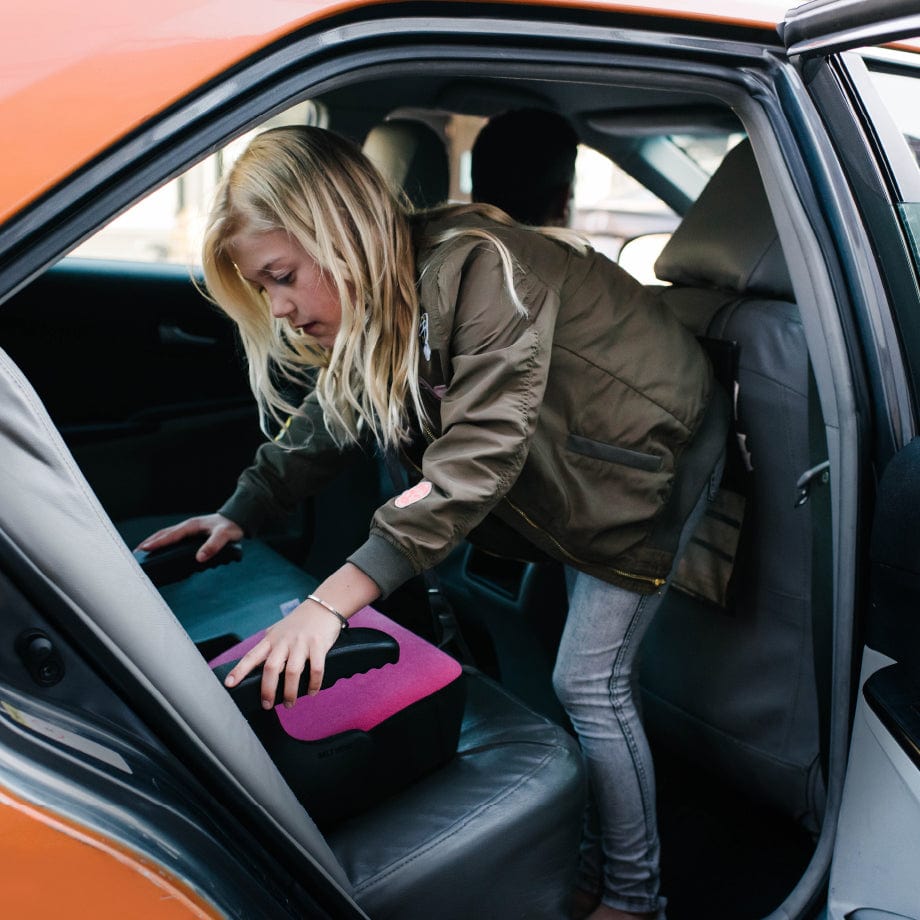 Now, let's dive into the expertise our specialist has to offer when it comes to booster seats:
Booster Seat Safety
Booster seats play a vital role in your child's car seat journey. They elevate your child, ensuring the seat belt fits correctly for optimal safety. 
The Expert's Tips:
Know When to Transition
Don't rush the transition to a booster seat. Safety first! Remember that it's not just about age. Size and weight matter too. Your child should be mature enough to sit properly with the seat belt across their lap and shoulder.
Proper Installation
Just like any other car seat, proper installation is key. Consult your car seat manual for detailed instructions. When in doubt, seek the guidance of a Certified Child Passenger Safety Technician (CPST).
Headrest Height Matters
When using a high-back booster, make sure the headrest is adjusted to the right height. The shoulder belt should sit snugly across your child's chest and shoulder.
Booster Seats Aren't a One-Size-Fits-All Solution
Different booster seats cater to different needs. Some are high-back boosters, while others are backless. Choose the one that suits your child's size, your vehicle, and offers the best belt fit. Always follow the manufacturer's instructions.
Stay Informed: Keep yourself updated on car seat safety guidelines and recommendations. Comply with your province's booster seat laws to avoid penalties and protect your child. 
Explore our collection of top-quality car seats made in Canada, including infant, convertible, booster seats, and accessories. Clek car seats are eco friendly and offer best-in-class safety features to ensure the well-being of your child. 
Clek offers a range of booster seats to cater to different needs and preferences:
 This high-back booster seat provides exceptional side-impact protection and is designed for children who have outgrown their forward-facing car seat. It offers luxurious comfort and style.
 The backless booster seat that's big on convenience and comfort. It's perfect for older kids who need a booster but are ready for a sleeker design.
We're Here to Help!
At Go Green Baby, we're committed to your child's safety and comfort. If you have any questions about booster seats or car seat safety in general, please don't hesitate to reach out to our specialist or leave a comment below. Together, we'll ensure that your little ones travel safely!